Women's ponytails
Women's ponytails are very popular hairstyles of million women worldwide. So we bring you some tricks and tips on how to create creative women ponytails with using hair accessories. We hope you will like this article and will try some of hairstyles on your own.
Ponytails with ribbons
Years ago, there did not exist so many types of hair bands and ribbons, and other hair accessories, so
ribbons
were mostly used. And as it is used to be,
old fashion trends are coming back
, and ribbons in women's hair are trendy. Nowadays, more emphasis are placed on the originality of the
ribbon
. Usually, the problem is that the ponytail release itself over time. The solution could be useage of transparent rubber band and then pinning the
ribbon
to your hair. Try high ponytail or very low ponytail if you have long hair and pin a nice
ribbon
into it.
Elastic hair bands
An interesting and quick tip to create a women's hairstyle is to use more than one elastic hair band at once. This type of hairstyle is the best when you have long straight hair. There are many types of elastic hair bands usage:
Try to use three elastic hair bands – first one, right to the top of your head, one in the middle and the third to the end of your ponytail.
Or two elastic hair bands if you have high ponytail – the first at the top of your head, where the ponytail starts and the second one a few centimeters (10-13 cm, 4-5 in) further. Than slightly release your hair between these two bands.
Alternatively, use several elastic hair bands, each of them clip on to approximately 3-4 cm/1.2-1.6 in of your hair. Try to alternate between two colors or as many colors as you want for fresh summer hairstyle.
Asymmetric women ponytails
You can also try to change the position of your ponytail. A low ponytail on the side of your head or high braid going from the top of your skull, are just a few examples for inspiration. Variation drawing attention may also are more thinner ponytails at once, some or all of them may be braided.
Pinning your ponytail with your own hair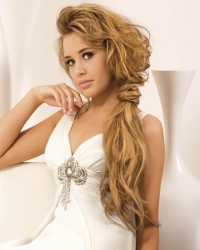 To pin a 
ponytail
with your own hair is not so easy as it may seem to be. Here is the "secret". Seek the assistance of someone. First, create high
ponytail
with elastic hair band. Then divide hair strand on the one side and wrap the elastic band with this strand. The end of the strand put into the ponytail and pin with band or a clip. You should have long hair in order to create this
hairstyle
.
If you found a grammar mistake, please, let us know: write a comment or email us.