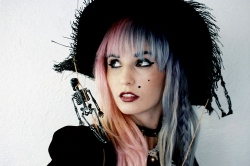 October is slowly coming to end and Halloween is coming back. This time is not associated only with the "celebration" of the supernatural and things beyond reality, but also with parties and festivities. Therefore, it will certainly come in handy if you get advice and inspiration
how to create Halloween hairstyles
.
Halloween hairstyles
Halloween party is mainy about costumes and masks, simply said about completely different outfits than we wear in real life (of course, goths are exception that proves the rule). But Halloween costume cannot be perfect without a suitable hairstyle. So choose one that suits your costume and style the best.
Men are done with just adding highlights or appropriate haircut (or slicked back hair as dracula), women need more time and effort to create amazing Halloween hairstyle. So the focus of this article is in women's hairstyles for Halloween. Men forgive us.
Women hairstyles for Halloween party
As mentioned above, highlights are a good way to harmonize your hairstyle to your costume. However, to avoid familiarity and banality, we need a little innovation:
Try to dye a single strand of hair and then before you go to a party put your hair up.
If you have dyed your hair and you plan to get trim, wait a while and make an interesting hairstyle with color transition. Use different color on each side of your head with gradual transition between them (like a horizontal ombre hair).
Shaggy hairstyles without limits are more than allowed during the Halloween.
Try to shave your long hair in one side and add highlights (how to do it you can read in our article Long women hair with shaved side​​).
Shape your hair in form of animal or some "monster" head.
Get inspired by Japanese style hairstyles – harajuku.
All these examples can be found in our gallery at the end of the article.
Wigs and artificial hair for Halloween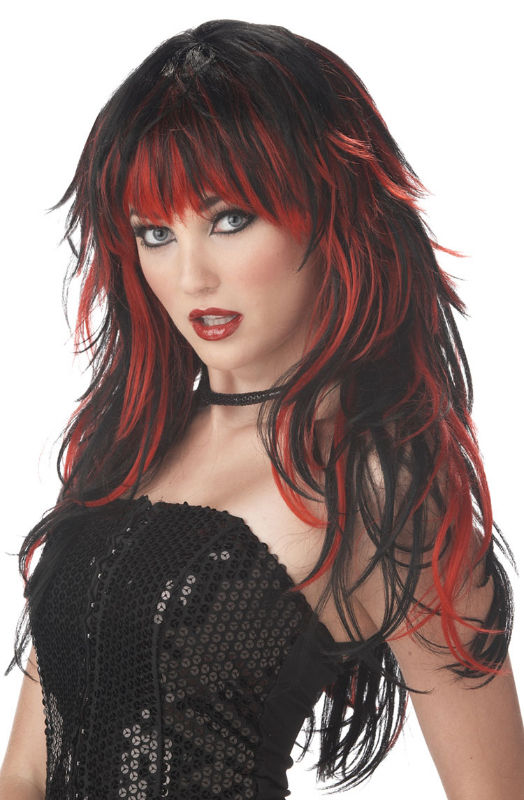 It is not worth to completely change the shape or color of your hair only because of one day of a year. People who recognized this like to use wigs. It might not be the cheapest way and therefore there is more appropriate method to use synthetic hair – artificial hair, which you can purchase in almost every shopping mall. If not, visit your hairdresser or try to look for an online shop.
If you are a costume production spent a lot of time and you have much hair left but to alternative hairstyle may be unusual hat. Subscribe mainly by design or modify some the mundane, the head will not fit perfectly. It can be mounted on a raised hair.
Halloween hairstyles – hairstyles for Halloween – gallery
Finally, just to remind you – do not be afraid to experiment. It is not nice to meet someone on the street in the same shirt, the worse is to find someone with the same Halloween hairstyle or costume in one room. Enjoy this time and prepare your Halloween costume with the perfect hairstyle. As what you know, maybe you will meet your prince on a white horse at the party (but first find out who is hiding under the prince's horse costume) …