Find out what women's hairstyles 2014 are trendy. If you want to know what women's hairstyles and haircuts do you have to have to look modern, read this article, in which we introduce you trendy hairstyles for women in 2014 according to the length of hair (and also other types which don't depend on the length).
Women's hairstyles 2014 for short hair
At the beginning it should be noted that short hair are not so popular among fashion designers and hair stylists because they can't show their talent in comparison to long women hair. Therefore it isn't surprising that we found only one major trend for women's haircuts 2014 (this doesn't mean that you should start to hate short hair). This trend is layered pageboy bob hairstyle. It appeared, for example, in Marc Jacobs fashion show in late autumn 2013: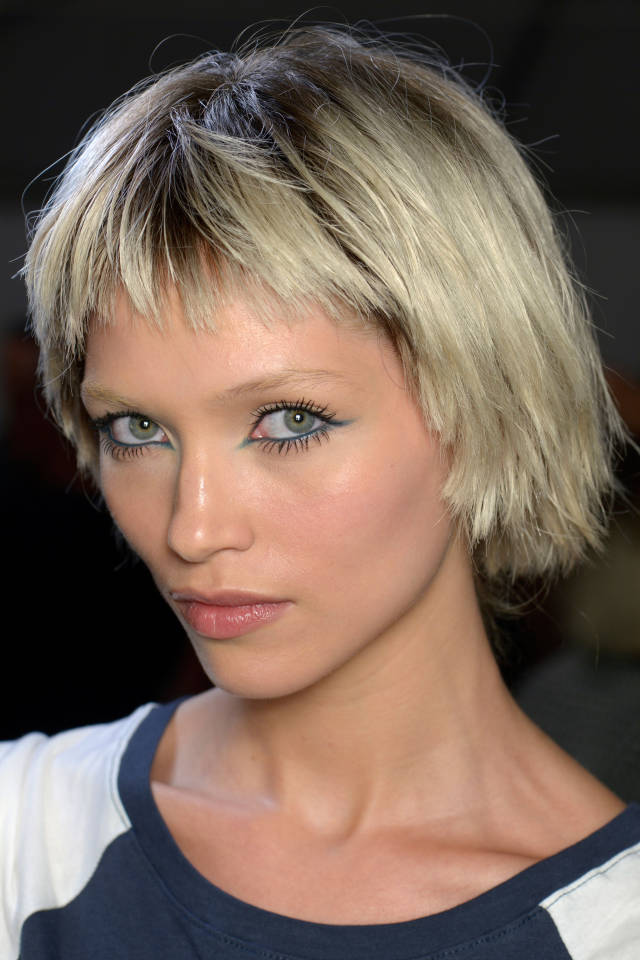 Marc Jacobs, layered pageboy bob 2014, © Imaxtree
This kind of bob hairstyle should remind boyish haircut, but be fresh and revealing women's strengths as big eyes, nice cheekbones, or ears. Toni&Guy, famous chain of hairdressing salons, see this woman's haircut about the same: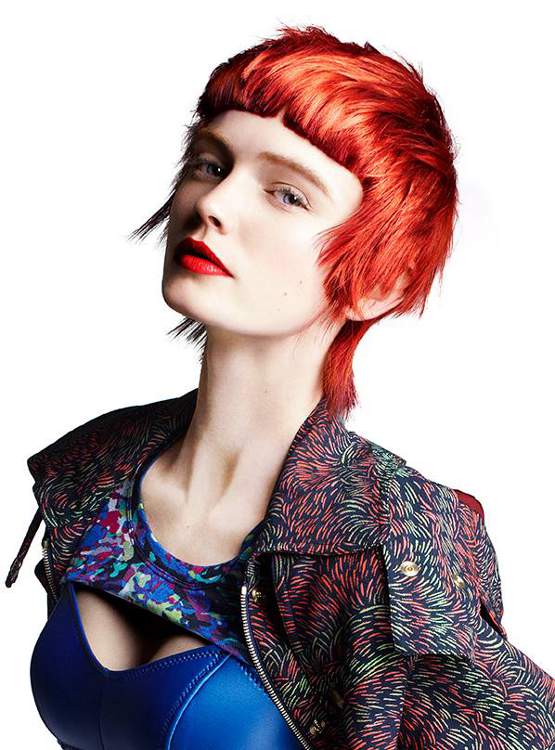 Pageboy bob 2014, © Toni&Guy
And thirdly L'Waren Scott and layered bob hairstyle with fringe, looks like the model cut it with scissors by herself in front of the mirror:
Bob haircut 2014, © Imaxtree
In relation to short hairstyles 2014, Yoko Hisatomi-Lane, well known hairdresser with salon in the heart of Hong Kong, expressed in this interview on www.trendystyle.asia about inappropriate hairstyle, which is out. It is a bob with shaved sides of the head, above the ears and/or above the back of the neck: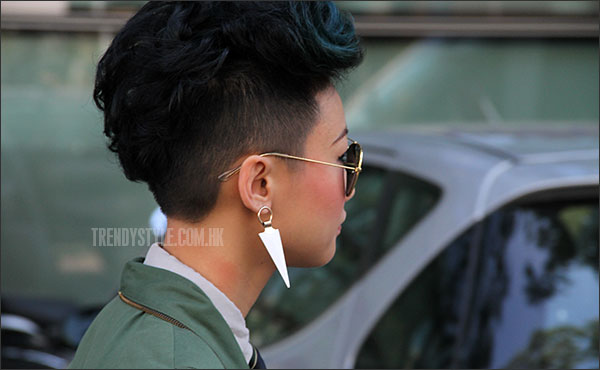 Inappropriate bob hairstyle for 2014, © Trendystyle.com.hk
It's similar with bob/pixie hairstyle with volume. So choose rather layered bob – not too volume or too shaved.
Women's hairstyles 2014 for long hair
Longer hair will allow you to experiment more and you can enjoy every season to create a women's haircut and hairstyle according to your wishes.
Pigtails and braided hair 2014
In 2014, braided hairstyles will dominate again. Pigtails and braided hair were popular last year. This time is main focus on milkmaid braid, especially in the first half of the year – spring summer 2014. The image below shows a nice example of milkmaid braid created with simple braiding:
Milkmaid braid as one of the trends for women's hairstyles 2014; © Imaxtree
… and this one by french braiding (click thumbnail to enlarge it):
French braid à la milkmaid braid, © Valentino
A good choice is to include at least some braided strands, as we could see on Karen Walker fashion show for 2014: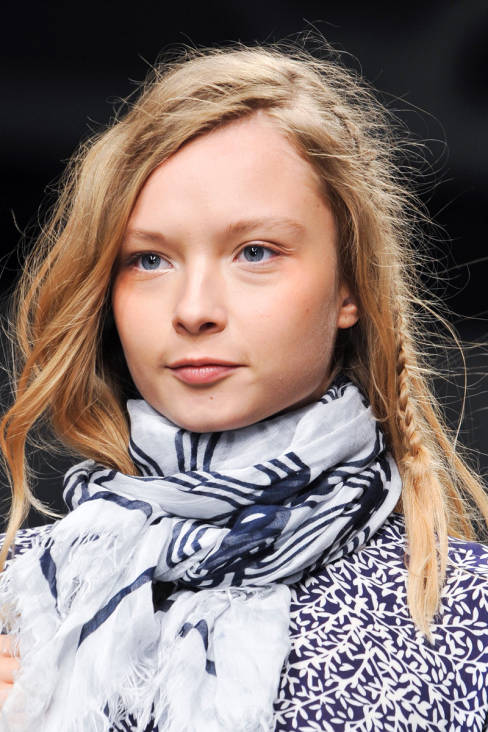 Fine braid incorporated into hairstyle 2014, © Imaxtree
Option number 3 is a fishtail braid. Hairstyle with fishtail braid is braided with only two strands. You'll love it mainly in the second half of the year – autumn winter 2014 season. You don't have to have only one fish braid, try two, like the hairstyle that appeared on the Calla fashion show in Paris, for 2014: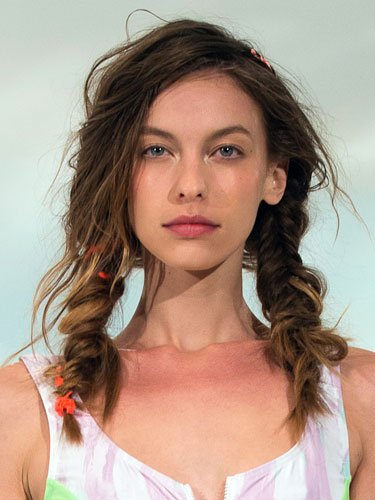 Two fishtail braids, © Imaxtree, source: www.marieclaire.com
Wavy hair and hairstyles 2014
The second most prominent trend in hair design of this year are wavy hair. Curls are no longer in vogue for some time, but waves are what you should definitely try out. So use curling iron instead of curlers. It takes just a moment and you have gently wavy hairstyle.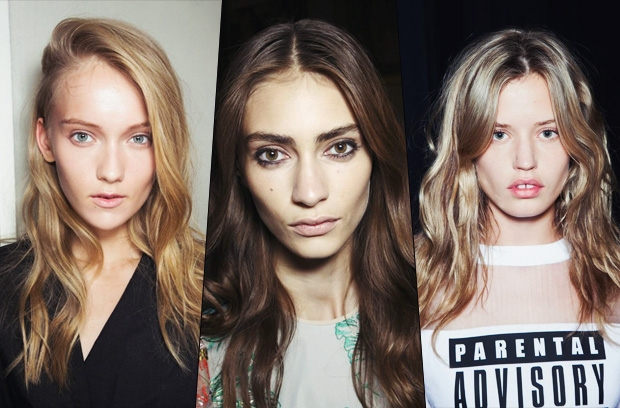 Women wavy hair 2014, left to right: Jonathan Saunders, Pucci, Alexander Wang; source: www.fashionising.com
Odile Gilbert for Kérastase, © Imaxtree
Other women haircuts 2014
Women's hairstyles 2014 contain also following trends. One of them are ponytails, no matter what the length – you can have semi-long hair or much longer. You might not see it like something new. And you're right, revolution doesn't take place. However, try to play around with combinations with location on the head (high, medium, low ponytail) and with securing – use a rubber band, comb, clip or other hair accessories. For example Helmut Lang, he made ​​it up like this: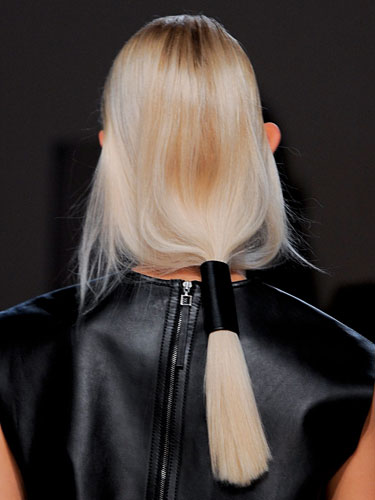 Low ponytail – women's hairstyles 2014, © Imaxtree
Such securing allows to easily and simply attach clip-in hair. You can have extend hair with length to the waist with only semi-long hair. More ponytail looks can be found in the gallery below (click to enlarge thumbnails to original format):
Another trend are slicked back hair. They are suitable more for long than semi-long hair, because often occur together with previously mentioned hair trends, especially with wave hairstyles. How is this possible? The slicked back part of the hairstyle is formed merely from hair on the top of the head and the rest is free or further modified. This hairstyle from fashion show by Salvatore Ferragamo will serve us for better vision:
Salvatore Ferragamo, slicked back women's hairstyles 2014, © Imaxtree
Bleached hair, slicked backwards on the top and the rest is free – we have seen this style on Marni fashion show: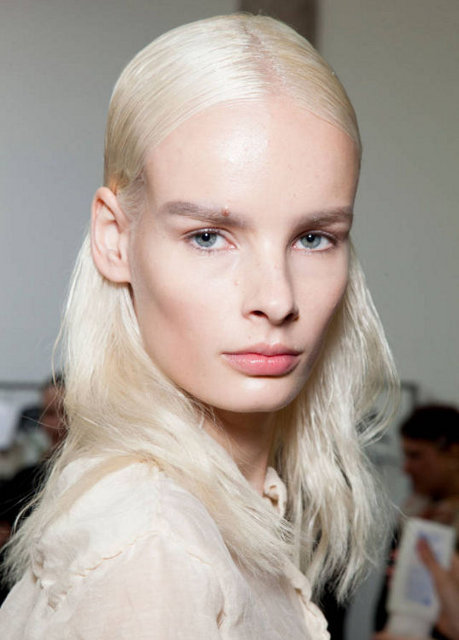 Women's hairscuts for 2014; © Imaxtree
More inspiration can be found in our last gallery, with hairstyles from the fashion designers such as Dior or Elie Saab:
Also in 2014, women's hairstyles offer us a wide variety of designs, styles, and trends. We believe that we inspire you with new ideas and the next time when you'll visit a hairdressing salon you'll take the plunge for radical change.
The main sources which helped us to analyze trends and write this article about women's hairstyles 2014: www.marieclaire.com, www.harpersbazaar.com, www.elle.fr, www.trendystyle.asia, www.fashionising.com, a ďalšie.