Lindsay Lohan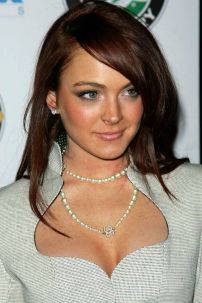 American actress, singer and model
Lindsay Lohan
was born on July 2, 1986 in USA. Her career began as a child model in her three years. Later, she performed in a less successful series, but her real career started with appearance in Disney movies for kids and teens. After the success in the film industry, she was attracted by singing – her debut album
Speak
(2004) was certified platinum, her second album
A Little More Personal (Raw)
(2005), was certified gold. Today
she is one of the most famous and successful celebrities not only in the USA
, but worldwide. And as it happens, successful and famous people determine trends, so take a closer look at what kind of
hairstyles Lindsay Lohan
has had and get inspiration (more about
Lindsay Lohan
at
Wikipedia
).
Lindsay Lohan Hairstyles
There are a plenty of hairstyles, haircuts and hair colors that has Lindsay Lohan tried. For the sake of simplicity and clarity, we divided Lindsay Lohan hairstyles by the color. We believe that such dividing of Lindsay Lohan hairstyles will be useful also for you.
Lindsay Lohan hairstyles – blonde shades
Hairstyles of Lindsay Lohan have a wide variety. We begin with her blonde hairstyles. She likes to wear long blonde straight hair. She often adds large curls at the ends of her hair, sometimes has curly all hair; adds highlights to match her mood, the most common for her is to combine blonde hair color with different shades of brown highlights. Blonde hair color really fits her, just look at the photos in the gallery:
Brown shades of Lindsay Lohan hairstyles
Lindsay uses brown hair color the most often. She uses a diverse range of colors, from reddish, chestnut brown, with blonde highlights, to dark brown. That combined with different hairstyles such as curly or straight hair, with a headband or a clip, makes a huge variety of hairstyles. The obvious is that she prefers long loose hair.
Black hairstyles of Lindsay Lohan
Since Lindsay Lohan has light personality colors, black hair colors does not fits her, and probably for that reason, she is not often seen with dark hair. But she can also conjure up a nice hairstyle with this color shades:
As it is obvious from the pictures, hairstyles with long curls are the number one for Lindsay Lohan.