Men's hairstyles 2014 trends consists of less trends than the women. It doesn't matter to men, they'll choose the right men's haircut much easier. So let's take a look at what are the men's hairstyles for 2014.
Men's hairstyles 2014 – gelled hair, parted to the side
A number of fashion designers within their fashion shows for 2014 used this hairstyle for their men models. The cut is longer on top and gradually reduces downward and backward. Using gel or wax on long hair on top (not just bangs), styling to part to the side, is the right way how to deal with this top hairstyle for men 2014. The first example is by Valentino:
Men's hairstyles 2014 with hair wax; Valentino, © N/A
Michael Kors sees this hairstyle as a top hair trend for 2014. He used it on most of their models, as you can see in the gallery below (click on thumbnails to enlarge):
Michael Kors' men's hairstyles 2014, © Go Runway
Similarly, this hairstyle looks well also by Gucci: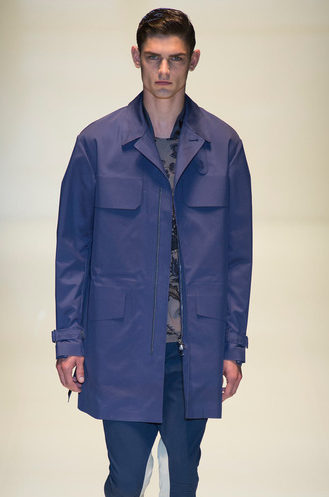 Men's haircuts  2014 – Gucci, © Go Runway
And the last example of this men's hairstyle, which we'll show you, is by the fashion house Lanvin: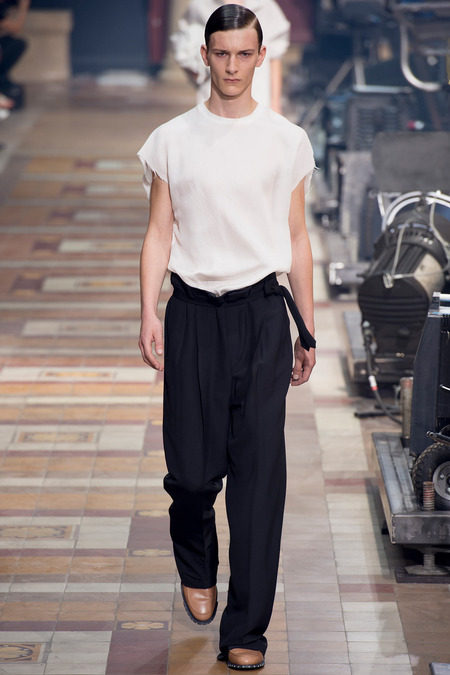 Gelled hair parted to the side by Lanvin, © Go Runway
Men's hairstyles 2014 – long bangs, short rest
Another frequently appearing hairstyle in fashion catwalks is hairstyle with long bangs and shorter sides with shaven hair above the neck. The largest volume of hair is concentrated in the front. Hair is left untouched, but can also be gelled, as it was among one of the trends in 2013. This 2014 men's hairstyle can be worn multiple ways. Some men will surely prefer bangs over forehead, others will comb it over to the side. To maintain the shape we recommend to use some of the supporting agents such as gel, wax or hairspray.
Men hairstyle for 2014 with long bangs over forehead – Fendi, © Go Runway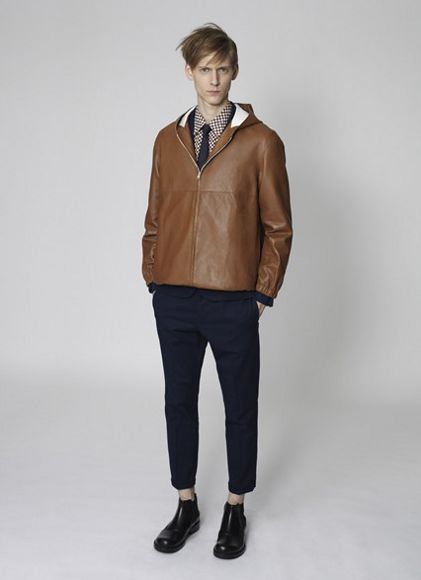 Men's Hairstyles 2014 with long fringe to the side – Marni, © Go Runway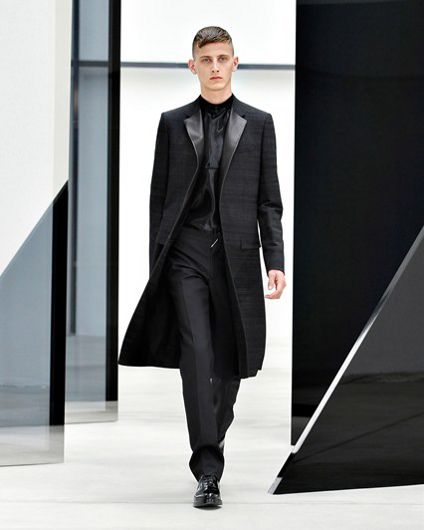 2014's haircut for men with gelled bangs – Balenciaga, © Go Runway
Try to experiment and change the color of bangs – lighten them by one or two shades. You'll be unique and show you know the men hair trends for 2014.
Men's hair accessories in men hairstyles for 2014
Men's fashion / hair accessories such as hats, caps, berets or scarves, are trendy. Vivienne Westwood seems to be an expert in this area:

Hairstyles with accessories by Vivienne Westwood, source: www.vogue.co.uk, © Gorunway, by: www.loshairos.com
Hair scarf is also an interesting complement to accentuate your hairstyle or personal style, but not everyone dare.
Hair scarf, © or source: N/A
In addition to the above mentioned trends of men's hairstyles for 2014, you can create the hairstyle which best fit to shape of your face (ask your hairdresser). Recent years, however, is true that you shouldn't avoid gelled and wax hair. Hairstyle treated this way looks modern and stylish, and attract an audience of women. We hope that you find the right men's hairstyle even in 2014.